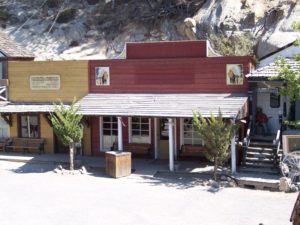 Legacy Junction!  See, feel and experience, first-hand, how early American pioneers lived and worked in the harsh, unforgiving environment of this diverse land, where modern day technology is still something in the future!
You and your family mosey across a wooden bridge and into the dusty streets of Legacy Junction.  You make your way around the corner and see what looks like a scene from one of your favorite westerns.  A thriving community where locals purchase and sell their supplies and goods.  You proceed down the rustic street to see a newspaper office with the latest local news, a bank, small school house and a candy store with homemade candies.  You turn your attention to a wood carver creating a one of a kind nut cracker and a blacksmith creating a personalized branding iron.  You notice leather shop, jewelry store, pharmacist with real old fashion malts, and even a chapel.  There is even a freight/post office, livery stables, and a feed and grain store.  You and your family continue down the boardwalk for some old fashion cowboy dining to start your days adventure.
If you're planning a trip out west (proposed), Legacy Junction could be the perfect place to come and visit. Legacy Junction will be a premier 1880's town right out of the past.  Whether you are a local, from out of town, or from another country Legacy Junction will offer a unique journey and look back in time.
We will be an 1880s town, with limited high technology and no cars!  We are dedicated to the construction and operation of what will become a premier destination of the American Wild West.  Unlike other western attractions, we will offer business opportunities to some of the finest craftsman and western vendors to share and sell their crafts as well as our guests.  We will be a living breathing town that has been frozen in time.  Guest will step back in time to the old west territory of the 1880s to experience the amazing story of how pioneers transformed the American West.  Be able to see and feel how the early western pioneers lived and worked in harsh, unforgiving environment of this diverse land.