Enjoy all of our attractions at your leisure.  We will continue to expand the western experience for our guest.  For some attractions and shows, guest can purchase tickets on-site.  Donations are always accepted for all other attractions.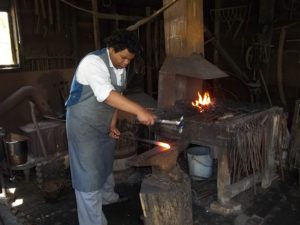 Theater – The place for live musical entertainment
Bank – Explore the interior of an 1880s bank
Blacksmith – See how a blacksmith forges metal into tools, horseshoes, and branding irons
Leather Crafts – Learn how leather craftsman customize belts, wallets, and other leather items
Candle Maker – See how a simple candle is made and their importance the pioneers
Wool Spinner – Discover what it takes to spin wool into thread
Tannery – Learn how tanners preserve hides to make clothes and blankets
Horseback riding – Take a trail ride across the majestic high desert with beautiful and breath taken views
Museum – Discover through interactive exhibits the technology of 1880s as it effected pioneer living
Mystery Shack – Be amazed and confused in this house where water runs up hill and you walk at a 45 degree angle

Basket weaving – Old Bethpage Village Restoration

Chapel – Dreaming of that Old West themed wedding, enhance that special day indoor or outdoor
Gold Panning – Mining has been a staple to the development of the west, learn how the old prospectors panned the rivers and streams
Native American Village – Experience the local Native American tribe's history and culture with an insight of their early way of life.